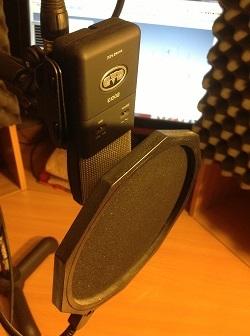 Voiceovers in US English
I record voiceovers in accent-neutral US English (American English). Find out what a neutral American accent is and learn about its advantages.
The majority of my work is in e-learning, promotional videos, mobile apps, and telephone system recordings. I also have extensive experience in online news, audio guides, webinars, and more. For samples, listen to American English voiceover demos.
I have worked as an on-camera presenter, with a teleprompter and ear prompter.
Boutique Voiceover Service for Hi-Tech
Due to my background as a technical writer, I am not daunted by technical jargon and will deliver your complex technical text with comprehension and ease. Perfect for elearning, training videos, and tutorials!
The service also includes options for voiceovers in British English, Hebrew, and by male voice actors - all of whom are experienced both in voiceover and in technical fields.
Learn more about my boutique voiceover service for hi-tech scripts.
I record your scripts at my professional voiceover home studio. I then edit the audio to remove breaths and outtakes, cut the audio into files, and format it.
If you need the audio timed to an existing video, I will ensure that the voiceover fits the timeline perfectly.
Furthermore, if you provide a music bed or sound effects (SFX), I can incorporate them into the audio for you.
My voiceover studio includes the following equipment:
CAD Equitek E100S Supercardioid Condenser Microphone (Main)
Steinberg WaveLab Audio Editing and Mastering Suite DAW
Genelec 6010A Bi-Amplified PM/WM 3 Monitors
AKG K271 MK II Headphones, Beyerdynamic DT 770 PRO Headphones
Audient iD14 High Performance AD/DA Interface & Monitoring System
Windows 10 Professional 64 bit
Acoustically treated studio, to ensure clean, high-quality sound
To ensure maximum availability, I also use the following equipment when travelling:
RODE NT-USB Microphone
Blue Raspberry Premium Mobile Microphone
TwistedWave Audio Editor for iPhone/iPad
Audio Technica ATH-M50x Professional Monitor Headphones
iPad
With over 20 years of experience in language editing, I can edit and polish your script, ensuring that you put your best face forward. My extensive experience as a technical writer guarantees that your technical script will pose no challenge to me.
Hebrew-to-English script translation is available for non-technical scripts.
Delivery & Payment
Turnaround time depends on the project scope, but I can usually deliver your voiceover within one business day. Your deadline is important to me, and any time constraints will be respected.
Audio files are delivered in the format of your choice, via email or yousendit.
Pay instantly and internationally with PayPal. Within Israel, pay via bank transfer or check.
Contact me to get a no-obligation price quote and free custom demo of your US English voiceover.